Ahhhhhh writing your vows. A blessing and a curse!
This can be a super overwhelming part of the wedding process or it can be the easiest thing in the world. If we are being honest, I totally get it. Sometimes it's just TOOOOOO hard to put into words all of the feelings, love, and promises you want to make to your partner.
The good news? I've gotchu. No, really! I do!
These are some tips and tricks to writing your vows AND how you can spice them up when it comes to the role they play in your wedding photography.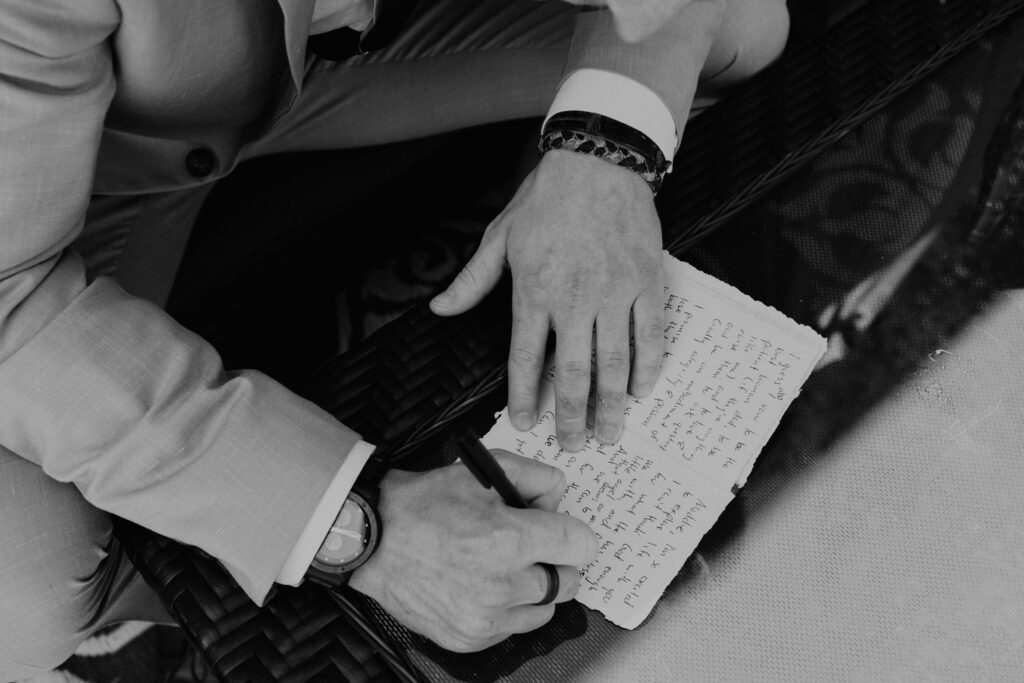 Writing Your Vows Tip #1
Instead of leaving it on your phone or computer, transfer your vows to a book or paper OR at least have it typed out—it'll look so much better in your photos during your ceremony/private vow reading and your detail/flat lay photos.
They also make cuteee keepsakes to remember the moment!
There is also an opportunity to take photos of this process the morning of your wedding day. Not only will it getcha in the headspace to marry your person, but it also adds so much to the entire story of your wedding day.
Some of my fave vow books on Etsy:
Little Caribou Studio | I love the look and feel of these! The outside is that super satisfying soft cardstock. My only caveat is that you can't customize the gender on them so you have to buy two sets if you want his/his or hers/hers set of vows.
Cover Cafe | I love that you can customize the leather. Plus stamped leather is just so timeless! I also like that it just says vows for a more gender-neutral option.
Olive Paperie Co | These ones are a bit more delicate, super timeless, and classic. I also love that you can customize the color of the ribbon to match your wedding colors
Writing Your Vows Tip #2
Not sure where to start? Try writing a stream of consciousness with all of the things: how you feel about your person, what makes you happy that you do together, etc.
Questions to ask yourself to kick off that stream of consciousness:
How does my person make me feel when I look at them?
What are your favorite things about them?
How do you show up for them in everyday life?
What are your love languages and how can those be used to show up for your person?
What do you picture when you think of your perfect day with your person?
How did you feel the first time you met or when they proposed/you proposed?
How will you encourage, inspire, and support them during your marriage?
What have you learned from them?
What do you miss about them when they aren't around?
Are there any obstacles you have overcome together?
Writing Your Vows Tip #3
Even though the goal is to be heartfelt and sentimental in making all the promises, don't forget to have fun! Make those silly promises that will make you and your partner laugh during your ceremony. Not only will it help with the nerves, but it'll also be great for photos.
Some of my favorite vow lines that have stuck out to me are the ones that promise things like "always saying yes to a sushi date" because it's their partner's favorite or "being down to watch Harry Potter for the 100th time" or "promising to suck it up" when their partner insists on adding that extra layer of sunscreen even though its the 3rd coat in an hour.
Think of those little everyday things that are lighthearted and will ultimately be uniquely yours—trust me.
Writing Your Vows Tip #4
Whether you're putting your vows in your suit pocket or handing them off to the person in charge, stick a tissue with it! You're going to need it more often than not and it's better to be prepared than to stop your ceremony to locate one haha.
You can thank me later!
Writing Your Vows Tip #5
Don't be afraid to share your vows privately! It's not everyone's jam to share all these feelings in front of a bunch of people so please don't feel guilty for not sharing them at the ceremony. Remember that the most important people who need to hear those vows are you and your partner.
We can do private vows on the day of your wedding during your first look! If you're not doing a first look, when I steal you for sunset/couples photos we can do vows then too. I can hang around to listen and photograph or we can fake it for photos and really let you have a private moment.
---
Elopement and Wedding Photographer Based in Lake Tahoe
Hi, I'm Dani!
When it comes to photography, I specialize in capturing love stories. So no matter the who's, what's, when's, where's, or why's… Together, you and I can document YOUR LOVE. No matter what it looks like. So, you can remember it forever and ever.
From backyard weddings to adventure sessions on the edge of the world, I'll go where your love takes me.
November 16, 2022
5 Tips for Writing Your Vows